Traditional treatments of depression vs. ketamine therapy
Depression affects nearly 7% of adults in the United States. Not surprisingly, antidepressants are the 3rd most prescribed drugs in the country. Depression also increases the risk of suicide. Among people 15-24 years of age, suicide is the third leading cause of death. According to the Centers for Disease Control and Prevention, between 1999 and 2016, suicide rates increased in almost every US state—increasing by over 30 percent in 25 of these states.
Despite the prevalence of depression and its status as a leading cause of global disease burden and disability, the clinical research of depressive disorder only began in the 20th century. For hundreds of years before that, depression was poorly studied. To illustrate, for many years, physicians assumed depression was caused by the spleen malfunctioning and secreting too much black bile. In fact, the old term for depression, melancholia, comes from the Greek term for black bile.
Today, we know much more about depression. In the diagnostic manual of the American Psychiatric Association, the DSM-5, a whole chapter is dedicated to "Depressive Disorders."
We have also discovered many treatments for depression. These treatments comprise a variety of psychotherapy modalities (e.g., cognitive behavioral therapy, acceptance and commitment therapy) and psychiatric drugs—selective serotonin reuptake inhibitors (e.g., Prozac), serotonin-norepinephrine reuptake inhibitors (e.g., Cymbalta), tricyclic antidepressants (e.g., Elavil), etc.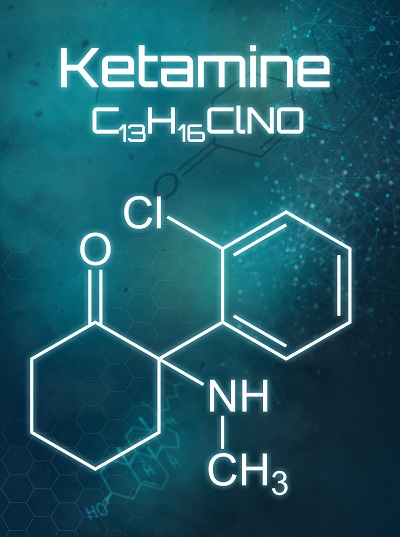 Treating Depression with Ketamine
When one (or, according to some definitions, two) or more trials of major antidepressants have not been successful, the patient is said to have "treatment-resistant depression." At this point, ketamine infusion therapy may be a good option to consider. Given that a full response to antidepressant medications could take weeks or even months, ketamine treatment might also be a useful option for individuals with severe depression or suicidal thoughts.
In a study by Murrough and colleagues, published in Biological Psychiatry, 70% of those with treatment-resistant depression responded to the ketamine treatment. Ketamine can work rapidly to help stabilize the individual as he/she begins a course of antidepressant medications or engages in psychotherapy. Alternatively, ketamine may be used as adjunctive therapy, used to enhance and augment the effects of antidepressant medications, psychotherapy, or complementary treatments.
Sometimes, ketamine infusions are used as the primary treatment. How many sessions will be necessary in these cases? It depends on the patient. While some patients will require only a single series of treatment for significant and long-term symptomatic relief, others might require several series of ketamine infusion over a longer period of time.
Although IV ketamine has been used for decades for the treatment of major depression, it is still considered off label. In 2019, Spravato (intranasal ketamine) became the first FDA approved ketamine treatment for depression.
What is Chronic Depression?
Chronic depression or treatment-resistant depression is depression that has failed to respond to at least 3 antidepressant medications from different drug classes.
What is Spravato?
Spravato Nasal Spray is a new FDA approved medication for treatment of chronic depression in adults. Please fill out the form to download our patient guide to get more information on this medication, who is the right candidate, treatment options, and potential side effects.
Talk to your doctor to see if Spravato is right for you.
Please note that Spravato can only be administered in a medically supervised healthcare setting that has been recognized as a certified treatment center.
Schedule Your Appointment
Contact us
About Harbor Psychiatry & Mental Health
We believe outstanding healthcare is delivered when we merge the science of medicine with the compassion of our hearts. We refer to this as "head and heart together," inspiring constant improvement and lasting success.
Psychiatrists Orange County CA
Psychologists Orange County CA
Contact us
Address: 4631 Teller, Suite 120
Newport Beach CA 92660
Phone: (949) 486-5984